Soothology
Fast-Acting Relief Gel
Regular price
Sale price
$ 34.00
Unit price
per
Sale
Sold out
Subscription details
You can modify or cancel your subscriptions anytime. There is no obligation. Subscriptions are renewed automatically.
60 day guarantee
If you decide this product is not for you, return it within 60 days for a full refund.


A marine-based therapeutic gel designed to ease muscles aches and tension. This lightweight, non-sticky formula goes on the skin smoothly and penetrates quickly delivering nutrients and minerals to help alleviate soreness.
 What it can do for you
Alleviates aches and muscle tension*
Supports muscle recovery*
All natural marine-based formula
Non-greasy
Fast absorption
Fast results
Share
View full details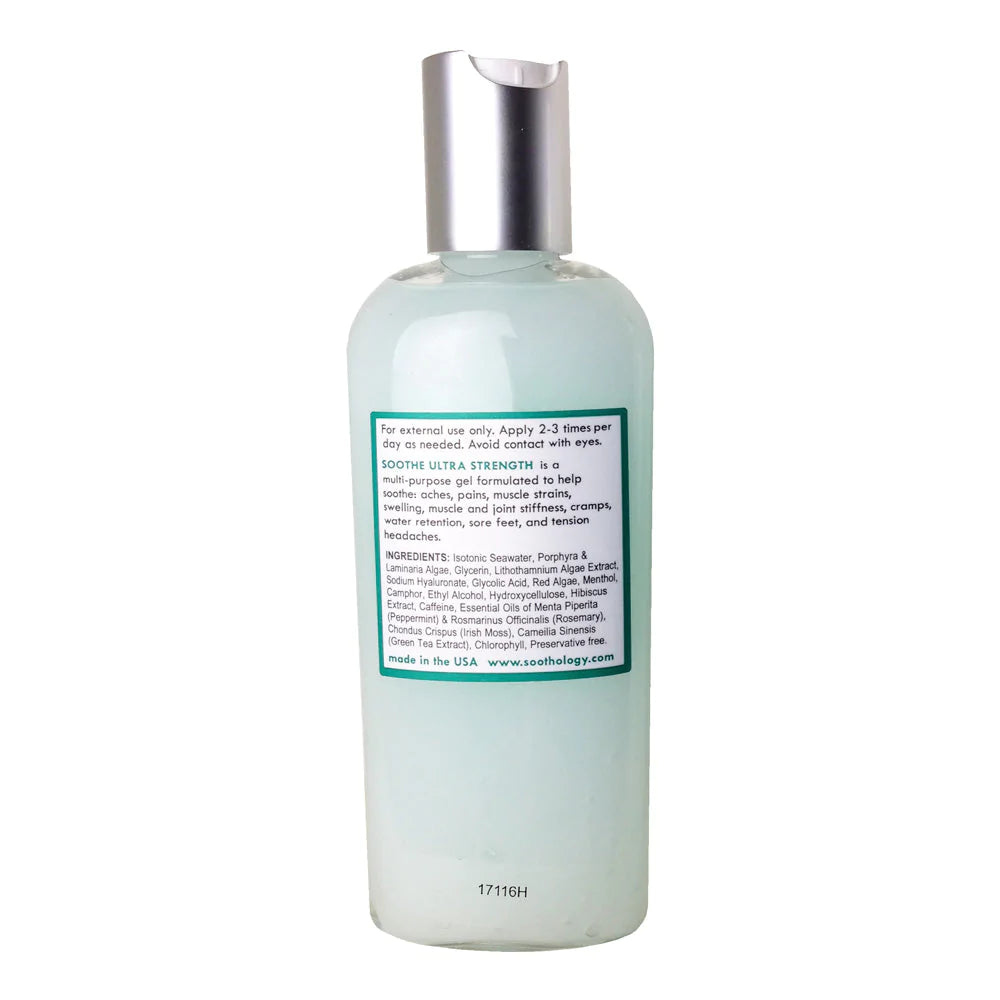 Product Information
Highlights

Soothe Ultra Strength is a marine-based formula rich in red and brown marine algaes and herbal extracts, including rosemary extract and essential oils of peppermint, that help reduce inflammation, relieve areas of discomfort, and support muscle recovery. Soothe Ultra Strength is preservative free.
Benefits

Alleviates aches and muscle tension*
Supports muscle recovery*
All natural marine-based formula
Non-greasy
Fast absorption
Fast results
Ingredients

Lithothamnium algae extract — a mineral-rich red marine algae with 32 trace minerals that easily penetrate the skin and help reduce inflammation.*

Porphyra red algae — made of properties and minerals that help reduce inflammation.* 

Laminaria Kelp — rich in minerals, such as iodine, potassium, magnesium, calcium and iron, that are important to healthy muscles.* 

Red Algae — with antioxidant properties and essential minerals, red algae can inhibit inflammation and reduce oxidative stress in joints and tissue.* 

Caffeine — can reduce muscle discomfort while exercising and relieve post-workout muscle soreness.* 

Green tea extract — has anti-inflammatory properties that help reduce inflammation and improve muscle recovery.* 

Camphor — comes from the wood of a camphor laurel tree and is easily absorbed into the skin to help lessen inflammation and alleviate discomfort.* 

Chlorophyll — is high in vitamins A, C, E, K and a variety of antioxidants that help protect against free radical damage.* It is often used as a therapy for muscular health.

Irish moss — a type of red algae used as a natural emollient or thickening agent in topical products. Irish moss is filled with nutrients, including vitamin A, vitamin B1, iron, magnesium, and calcium.

Peppermint — has anti-inflammatory properties that can help alleviate muscle discomfort and support muscle relaxation.*

Hibiscus flower extract — helps lessen inflammation and has anti-microbial and antioxidant properties to reduce free radical damage.* 

Isotonic seawater — is considered a therapeutic agent with a mineral composition similar to blood plasma to absorb well into the body. It contains a third of the salt content of water found in the ocean and has the highest safety rating for skin care ingredients.

Ethyl alcohol — comes from sugar cane and with a low molecular weight, it is combined with topical ingredients to help the nutrients penetrate the skin. 

Glycerin — promotes hydration and improves the application of topical therapies with anti-irritant and anti-inflammatory properties.*

Glycolic acid — is commonly used in skin care products to moisturize and refresh the skin.

Hydroxyethylcellulose — a non-irritant thickening agent and lubricant derived from cellulose and used in topical gels to help bind the formula together.
How to Use

Apply small amount to area of muscle soreness or joint discomfort. Repeat as needed. Keep away from eyes.
What customers are saying...
I absolutely LOVE this stuff!

" I struggled with body aches, especially my low back with my pregnancy. When I started using Soothe Ultra, my aches disappeared! I highly recommend this product to any moms out there or just anyone with aches and pains."

— Brooke C.

I broke my foot this summer...

"Two days later I was back working my construction job. Soothe Ultra kept me sane as I applied it multiple times a day to help keep the soreness levels down for the next few weeks. I now apply Soothe Ultra anytime I have sore muscles and it helps tremendously. I will forever be keeping a bottle on hand!"

— Natalie W.

I love the way this product works! 

"I am a hairstylist and mom who is on my feet constantly. I use my arms and hands all day everyday. I struggle with shoulder issues because of this. This product soothed my aches and made that stiffness go away within 5 minutes! I love the way it smells and the coolness it brings to help my muscles. I highly recommend this product if you have the same kind of issues as me! It's great stuff!!"

— Alixandra G.
Healing properties of the ocean
Mineral-rich algaes and kelp are key to alleviating muscle discomfort and stiffness.

Soothe Ultra Strength is risk-free
We stand behind all our products with a No-nonsense Guarantee. If you are not happy, we are not happy. Return this product within 60 days for a full refund.
View our Guarantee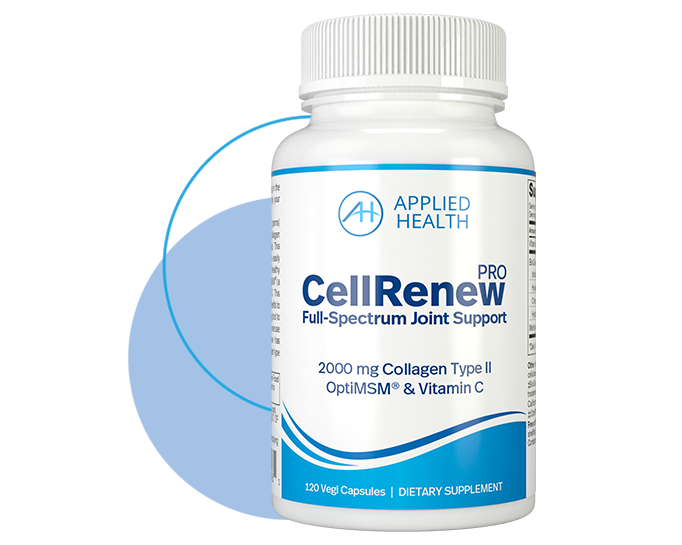 Meet CellRenew Pro
Do you need more joint mobility and less discomfort to keep up with your day? CellRenew PRO is designed for your active lifestyle.
Shop now